Peters Auto Mall Blog
Blog Home
Where Can I Find The Best Cars For College Students?
Where Can I Find The Best Cars For College Students?
December 19th, 2020 by:

Peters Auto Mall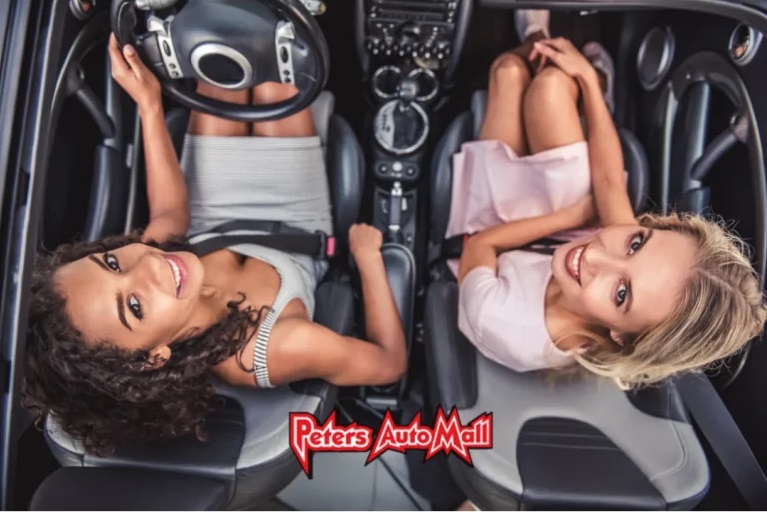 Certain milestones are also rites of passage in our American culture. For example, getting your driver's license is a major event in a teenager's life. And heading off to college represents a transition from a child and into a grown-up. However, some parents find it hard to watch their child drive off into adulthood. Yet, providing your college student with a safe and reliable vehicle can ease your worry. When searching for the best cars for college students, shop at Peters Auto Mall.
Kevin and Angie Peters began their dealership in 1993 to provide the best car buying experience to their community. From a small corner lot to a large multi-location dealership, we've grown into the Piedmont Triad's #1 used car dealership. Our dedication to our customers has earned us hundreds of positive reviews.
So, what makes us different from other dealerships? First, we price all our vehicles with our no-haggle pricing because most consumers hate negotiating. We also have many different financing options to meet consumers' needs and creditworthiness. Plus, we have a total online buying experience allowing you to purchase a new car without ever leaving home. All the services we provide are an effort to make your car buying experience enjoyable.
How To Find A Safe And Reliable Vehicle For Your Teenager
Two important organizations have joined together to compile a list of safe and reliable vehicles for teens. Consumer Reports is an independent, nonprofit organization that works with consumers to provide the truth about products. IIHS is also an independent, nonprofit organization. Its mission is to reduce deaths, injuries, and property damage from motor vehicle crashes.
Starting in 2014, these two organizations began compiling a list of affordable vehicles that met important safety and reliability criteria. Recommended cars must protect young drivers from injury in a crash and also reduce the chance for a crash. Moreover, vehicles must have an above-average rating for reliability from consumer reports. Cars that make the list must meet strict criteria:
Include electronic stability control equipment
Have above-average reliability for the majority of the years listed, based on CR's member surveys.
Average or better scores from CR's emergency handling tests
Dry braking distances of less than 145 feet from 60 mph in CR's brake tests
Good ratings in IIHS crashworthiness tests
Four or five stars from the National Highway Traffic Safety Administration
What Are The Top 5 Safest Cars?
So, which are the top safest cars? Ultimately, that depends on the year and size of the car. In a series of tests, IIHS proved bigger automobiles provide greater protection in a crash. However, there several small cars that make the list too.
Top-rated cars must not only do well on crash tests but also have current safety technology:
Lane departure warning/ lane keep assist
Forward collision warning
Automatic emergency braking
Adaptive cruise control
Driver attention monitor
Pedestrian Detection
These particular systems actively help you stay alert and avoid dangerous situations on the road. The cars with the highest safety ratings include these features as standard equipment in many of their models.
Certainly, some automakers are known for their safety and these brands occupy the top spots. Honda, Kia, Hyundai, Subaru, and Mazda all make some of the safest cars available. In particular, popular cars like the Toyota Corolla, Hyundai Elantra, and Subaru Forester are among the safest.
When you're searching for the best cars for college students, stop by Peters Auto Mall. We have a huge inventory of vehicles of all different makes and models. From a Honda Civic or Toyota Corolla to a Kia Forte or Ford Escape, we likely have the perfect car waiting for you on our lot. Whether you want a small car, sedan, compact crossover SUV, van, or truck, we're sure to have it. Browse our online inventory here. See one you like? You can easily schedule a test drive today by clicking the link on the right of the listing.
A Used Car Is Better For Your College-Age Driver
As you look for a college car for your teenager, you may disagree on important features. Your teenager may want a cool car with a roomy cabin for friends. While you may be looking for an affordable car with good fuel economy and safety features.
Whichever features are important to you both, you can find a vehicle to fit those criteria at Peters Auto Mall. We have many late-model vehicles with state-of-the-art safety features and low mileage. Whether you're looking for a compact car, sedan, compact SUV, 4-door, or hatchback, you'll find it on our lots. Many of our cars have Bluetooth connectivity, a rearview camera for safe backing up, and blind spot monitoring. All are at affordable prices that won't break the bank.
Buying a used car for your college-age driver is a smart choice. Roughly half the cost of a new car, buying a quality pre-owned vehicle is a great way to save money. Plus, you'll feel less irritated over any dings or scratches your teen will inevitably make in a used car.
Furthermore, in the last decade, many advancements in automobile safety have become standard features. Airbags, traction control, and anti lock brakes are some standard safety features in today's cars. Thus, you'll discover that a used car can be an affordable, safe vehicle for your teen.
Reliability Is A Big Factor Too When Considering Options
Frequently, parents experience anxiety and dread when their young driver starts driving at night or across state lines. One such fear is their teenager breaking down in the middle of nowhere. Thus, another important feature for parents is reliability.
When looking for a new car, you can use many online tools to check reliability and dependability ratings. J.D. Power, Consumer Reports, and U.S. News & World Report all rate used cars for consumers. Each uses slightly different sources, but all give you a snapshot of what you can expect from a particular model.
RepairPal is a fairly new research tool that rates dependability by evaluating data on cost, frequency, and severity of repairs. Comparing repair invoices with other automotive statistics and predictive science, the organization determines the automobile's score. Currently, you can see ratings for cars for the 2010-2019 model years.
It's no surprise that some of the most reliable cars are also the safest vehicles. Toyota, Hyundai, and Mazda make some of the most dependable automobiles. While the Jeep Wrangler and Chevrolet Camaro are among the least dependable.
Since reliability is an important factor for consumers when buying a car, we make sure we sell quality vehicles. When we acquire an automobile, we conduct a systematic 125-point inspection. We spend on average over 12 hours per vehicle ensuring that every aspect of your vehicle is safe and reliable.
Calculate Your Total Cost Of Ownership
Sometimes, when budgeting for a car, consumers will only calculate their car payment. Yet, car payments are only one expense factor with car ownership. Gas mileage, insurance premiums, maintenance, and repairs all add to the total cost of ownership.
Comparing fuel efficiency is as easy as comparing each vehicle's mpg rating. But, how does this translate into actual dollars spent on fuel? You can compare two vehicles side by side for fuel economy and savings by using the EPA's calculator. Moreover, use Edmunds' cost vs. mileage calculator to estimate your savings by purchasing a vehicle with better fuel economy.
Another big expense associated with owning a car is insurance. Typically, younger drivers have higher insurance premiums. Higher car insurance costs can really stretch your budget when you're trying to pay for college too.
Your insurance company calculates a premium based on several variables particular to you and your car:
Driving record
How much you drive your car
Where you live
Age
Gender
Type of car
While you can't change some of the factors influencing your premium, you may be able to apply for some discounts. For example, many insurance companies offer a "good student" discount. Maintain a GPA of 3.0 or above and you can receive a reduction in your auto insurance premium.
Some insurance companies will give you a "student away at college" discount. You must leave your car at home and the college must be at least 100 miles from your house. Additionally, you must also be under the age of 25.
Financing Is Easy At Peters Auto Mall
Whether you're buying your college student a car or helping them buy one on their own, you'll probably want to finance. Just like you shop around for the best deal on a car, shop around for a financing agreement. You can try banks, credit unions, and of course us.
Obtaining financing through us is a fast and easy process. You can get a pre-approval in minutes without revealing your social security number or affecting your credit score. Plus, there's never any obligation to accept our financing. So, you can see how we stack up against our competitors.
Often, many consumers just compare rates. However, the term and APR are also indicators of the cost of financing. The Annual Percentage Rate (APR) takes into consideration certain fees associated with your loan. Thus, your lender will express your APR as a higher percentage than your interest rate. Additionally, the term or length of your loan is important. While a longer-term means lower monthly payments, you're also looking at paying more interest.
While you're free to seek financing from whomever you want, we do run some really awesome deals. Currently, we're offering 2 amazing deals for qualified buyers. You can get no payments for 90 days on select vehicles or payments starting at just $99.
Our reputation within the local community is important to us. Therefore, we use only trusted finance sources to find the best options for you. For over 25 years, we've been helping customers finance the car of their dreams.
We've Got Some Of The Best Cars For College Students
As you watch your children grow up, it can be both a proud and scary experience. Your teenager getting their driver's license is one of those experiences. But, as you watch your teen drive down the street, you can rest easy knowing safety technology will prevent many accidents. That's because you found a quality pre-owned car with many safety features at Peters Auto Mall. It's one of the prime places to find the best cars for college students.
We have a huge inventory of vehicles including vans, pickup trucks, and every size car. Many are late model cars with low mileage and the latest safety equipment. Plus, we take trade-ins. Even if you don't plan on buying a car from us, we'll buy your vehicle. It's fast, easy and you never need an appointment.
Moreover, we have an outstanding service department to keep your car humming along. Fast and efficient, we cover routine maintenance in addition to major repairs. Plus, with any service over $50, we include a free car wash.
When you're looking for an affordable, safe car for your teen, no one treats you better. Follow us on Facebook for our latest deals and specials. We're the car dealership with a focus on you.