Peters Auto Mall Blog
Blog Home
Used Diesel Trucks Near Me – Why Choose Diesel at Peters?
Used Diesel Trucks Near Me – Why Choose Diesel at Peters?
December 21st, 2020 by:

Peters Auto Mall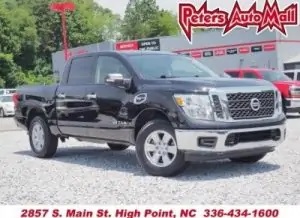 Are you on the hunt for used diesel trucks near me to purchase from a respectable dealer? At Peters Auto Mall, we have a huge selection of diesel vehicles to choose from at our three Piedmont Triad lots.
There are still many myths about diesel engines. A few myths include that they are found in trucks only and are not fuel-efficient. Read on in our blog below to learn about all things diesel.
What to Expect in this Diesel Blog
Not sure if you should choose a diesel engine vehicle or not? Fortunately, we can help you discover the many benefits they offer to owners. First, learn some important facts about diesel vehicles, including their rich history that dates back over a century. Then, check out the top 20 diesel vehicles in 2020 as voted by Car & Driver.
Peters Auto Mall is your one-stop shop for any diesel vehicle. We treat our customers like family and offer numerous advantages to every single customer that walks onto our lots.
Wondering what to expect when you visit a dealer lot? We break down exactly what a visit to Peters Auto Mall will entail. Additionally, we give some great suggestions on things to consider before you visit a used vehicle dealership. Moreover, do not miss where we share more information about our diesel and lifted trucks inventory!
Plus, our full-service department is ready to assist you with any auto repair you need. Lastly, we provide some tips on the best ways to care for your diesel engine vehicle after purchasing one.
Why Choose a Diesel Engine?
When most people hear diesel they automatically think of trucks. While trucks are the most popular and common type of vehicle with a diesel engine, they are not the only type. Diesel engines also exist in cars and SUVs as well.
You might be wondering what the benefits are of a diesel over gasoline engine. There are several benefits to owning a vehicle with a diesel engine. Those include:
More efficient
Less emission
Higher power and torque
Long-term cost savings
Not ignition prone
Improved mileage
Less repairs and breakdowns
Better at self-cooling
Now that you know all these awesome benefits, are you ready to learn more about diesel engines?
Fast Facts on Diesel Engines
Below are some important facts about diesel engines.
It is a long-lasting engine.
Rudolf Diesel built the first diesel engine in 1897.
Gear-driven is the focus on diesel engine design.
Fuel efficiency is a strong quality for diesel engines.
Long-Lasting Engine
A diesel engine will easily last 30 years. What is even more impressive is that they are known to run for over 1,000,000 miles before requiring major mechanical work. That is right… a million miles! How do you get to a million miles of travel time? That is the equivalent of traveling around the Earth 40 times!
Over a Century Old
The history of a diesel engine began in 1897. Rudolf Diesel created the first diesel engine; however, at the time it weighed around 4.5 tonnes (also known as a metric ton) and was three meters high. To put that into perspective that would equal 9,920 pounds and around 9.8 feet tall. Today's diesel engine weighs, on average, 700 pounds, and is certainly not taller than the average person!
Gear-Driven Design
Most diesel engines utilize gear-driven water and oil pumps. This means better lubrication and less wear on the engine. Have you ever had to deal with timing belt, chain, or pump issues on your gasoline engine? You are not alone as it is a common problem among vehicles with a gas engine. In contrast, mechanics or even vehicle owners can easily fix gears on diesel engines, which is unlike the many parts and components on gasoline engines.
Great Fuel Efficiency
Did you know that diesel fuel has more than 10 to 15 percent more energy than gas fuel? This means not only do diesel vehicles travel further on a gallon of gas than gas engines but are also cleaner and better for the environment.
Best Used Diesel Vehicles This Year
Diesel engines have come a long way since their initial invention in 1897. Now, all the major American vehicle manufacturers produce diesel vehicles.
According to the 2020 Car and Driver diesel engine rankings, below are the 'top 20' diesel vehicles of 2020. These vehicles are ranked alphabetically and not by superiority.
Colorado (truck) -Chevrolet
Express (van) – Chevrolet
Silverado 1500 (truck) – Chevrolet
Silverado 2500HD/3500HD (truck) -Chevrolet
Suburban (SUV) – 2021 Chevrolet
Tahoe (SUV) -2021 Chevrolet
F-150 (truck) – Ford
F-series Super Duty (truck) – Ford
Canyon (truck) – GMC
Savana (van) – GMC
Sierra 1500 (truck) – GMC
Sierra 2500HD/3500HD (truck) – GMC
Yukon/Yukon XL (SUV) – 2021 GMC
Jeep Wrangler (SUV)
Discovery (SUV) – Land Rover
Range Rover (SUV) – Land Rover
The Range Rover Sport (SUV) – Land Rover
Sprinter (van) – Mercedes-Benz
1500 (truck) – Ram
2500/3500 (truck) – Ram
Looking for the Best Used Diesel Trucks Near Me? Choose Peters Auto Mall!
At Peters Auto Mall, we always strive for customer satisfaction and are with you every step of the buying experience to provide a smooth transaction.
Here are the amazing benefits we offer our customers at Peters Auto Mall.
Easy online financing application
Quick pre-approval process
Flexible financing
Great, non-haggle pricing
Comfortable test drive options
Expansive inventory
Knowledgeable and friendly team
Excellent customer service
Trade-in options
Family-operated business atmosphere
Extensive 125-point inspections
Three convenient Piedmont Triad locations
Great hours to fit into any schedule
We pride ourselves on offering all the above advantages to every single customer that visits us. From a pickup truck to Chevy diesel trucks, we work with our customers throughout every car buying step. For instance, we will provide a CarFax report upon request and even wash your vehicle upon purchase.
If you want to start the process online to save time or begin the search during our closed hours, then our website offers multiple functions for an easy web experience. Here are a few ways you can utilize our website:
Research vehicle price points
Schedule a test drive appointment
Find out horsepower information
Search our extensive inventory of everything from a Ford truck to a RAM diesel truck
See actual mileage on every vehicle in our inventory
Look up the model year on a vehicle you are interested in viewing in-person
Discover the right truck for your needs
What to Expect When Visiting Peters Auto Mall
Whether you are a first-time buyer or veteran buyer, the car-buying process often feels daunting and some people simply dread the experience. At Peters, we want every person to feel at home no matter which lot they visit. Our experienced sales staff will warmly greet you, but completely respect your space and wishes when you are checking out our extensive inventory.
We understand every single customer is unique and has their own taste, needs, and budget. Our goal is to get you into a vehicle you love at a price you can afford. To accomplish that, we highly recommend you be ready to answer these questions when preparing to buy a vehicle.
What type of vehicle do you want? Car, SUV, truck, or van?
Do you have a preference on color?
Are you looking for a specific make and/or model?
Do you need a work truck for hauling or towing?
Would you prefer a diesel engine over a gasoline engine?
Are you looking for a vehicle with low mileage?
Do you have a vehicle to trade-in?
What is your monthly car payment budget?
These are only some of the many questions that you need to consider before purchasing any vehicle, whether it is a pre owned diesel truck or a gas powered truck. Our staff will guide you through the entire process, from determining how much vehicle you can afford based on your income and credit history to signing all the paperwork.
Peters Offers a Great Diesel Vehicle Selection by Top Manufacturers
If you are looking for a powerful Dodge Ram or any model of Ford diesel trucks, then we have you covered. We offer only the best diesel engine vehicles from the top manufacturers. Click here to check out our extensive selection of diesel power vehicles. Not interested in purchasing a truck? Do not worry, we often sell diesel engine cars as well. For instance, this sleek silver 2014 Volkswagen Jetta is a diesel engine.
Another Diesel Truck Favorite – Lifted Trucks!
Are you interested in a lifted truck? We have you covered! Learn more about our lifted truck options in our recent blog. However, before you purchase a lifted truck be sure you know all the NC state laws that apply to lifted vehicles.
Complete Service Department for All Diesel Truck Maintenance Needs
Just like any other type of vehicle, a diesel truck requires regular maintenance and service appointments. Luckily, we have a full-service maintenance and auto repair shop at our South High Point location.
We offer the following services:
Oil change
North Carolina inspection
Tire replacement
27-point inspection
Diesel repair
A/C recharge
Check engine light service
Full detailing
Brake repair
Transmission service
Engine repair
Even if you did not purchase your vehicle through us, we offer these services to everyone!
Now that you know about all of our extensive services, we want to share some tips on how to care for your diesel engine vehicle.
Best Care Tips for Diesel Vehicles
Here are the top three care tips to keep in mind once you purchase a diesel truck or car.
Keep up with manufacturer recommendations.
Always get professional oil changes at the suggested mileage.
Never input anything other than diesel gas in the tank.
When in doubt, give our service department a call at 336-823-6522 and we will be happy to assist with any questions or diesel vehicle issues. You can also visit our service department page and virtually request an in-person appointment.
Why Wait? Get into the Diesel Vehicle of Your Dreams Today!
Look no further for the best dealer for used diesel trucks near me in the area. If you want a Chevy Silverado or any diesel truck with a great towing capacity, then a diesel powered truck is the perfect choice.
Head to or contact any one of our three convenient locations in the Piedmont Triad. We welcome walk-ins or appointments.
North High Point Location
Address: 3037 North Main Street, High Point, NC 27265
Phone number: 336-886-5140
Hours: Monday through Saturday 9 a.m. to 7 p.m.
South High Point Location (Service Department Located Here!)
Address: 2857 South Main Street, High Point, NC 27263
Phone number: 336-823-6522
Sales Department Hours: Monday through Saturday 9 a.m. to 7 p.m.
Service Department Hours: Monday through Saturday 8 a.m. to 6 p.m.
Greensboro Location
Address: 5101 West Market Street, Greensboro, NC 27409
Phone number: 336-664-8223
Hours: Monday through Saturday 9 a.m. to 7 p.m.
We look forward to partnering with you to help you find the diesel vehicle of your dreams!